Here I am going to explain how to export NSF to EML format, but before describing the method, let us see why the user is compelled to Lotus Notes emails to EML.
| | | |
| --- | --- | --- |
| Email formatting | NSF file/IBM Notes | EML file |
| Developed | IBM | Microsoft |
| Support in | Lotus Notes only | Thunderbird, OE, WLM, MAC etc. |
| Maintenance | High | Low |
| Domino server | Required | Not Required |
| Technical knowledge | Yes | Not required in most |
Know more about EML format-
An EML file is an email message export, store and import by many email clients such as Outlook Express, Windows Live Mail, Thunderbird, Apple Mail etc. It contains the all data in simple form like – message, along with the subject, sender, recipient(s), date and attachments. There is no option to access the Lotus Notes file into OE, MAC & many other email clients directly. So the user needs to export IBM Notes data into EML format to access EML supported email clients.
 Here are some other reasons that are largely responsible for the conversion of NSF to EML-
NSF files can't be accessed on another platform like Outlook Express, Thunderbird, Apple Mail etc.
Due to high-cost, it can't be affordable by small organizations.
To handle the IBM Notes application, one must know to be good technical skills.
The Encrypted NSF files are only open in Lotus Notes software only.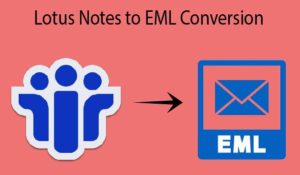 Method to export IBM Notes Data into EML format-
There are two methods available to convert NSF data into EML format: One is manual method and second is third-party solution. By using both methods, user can easily export Lotus Notes data in EML format-
There are two manual methods to migrate Lotus Notes data into EML format-
Method 1-
Firstly, Open Lotus Notes and select the emails that the user want to save in EML
Now click on the File tab and then click on Save As option.
Now Choose File Name and click on Save option.
The selected email will now get converted into an EML file format.
Method 2-
Firstly, go to the Home page.
Now Click on File option and then select Preferences option.
After that, select the Basic Notes Client Configuration option.
In the bottom, there is an Additional options section, just select the Drag and drop option then saves as an EML file option.
When the process complete, you can easily drag and drop all the emails from Lotus Notes. It will automatically get saved as EML file format.
Drawbacks of Manual conversion methods-
There is some limitation of the manual method that the user may face during the migration of the data file from IBM Notes emails to EML file format such as-
Both methods will work only to export a single Lotus Note email to an EML file at a time.
The manual conversion process only works on Lotus Notes version 8.5 and above.
Converts one file at a time, so too much time taking process during the conversion.
If the process gets stopped due to any reason then the Lotus Notes data may get corrupted or loss.
Third-Party Solution-
If the user is not able to export Lotus Notes to EML format manually then I suggest you use NSF to EML Converter Tool. It is a professional utility to convert IBM Notes data to EML format. The software gives much more functionality such as –
Easily exports Lotus Notes files Emails to EML format
Maintains the hierarchy and email elements after the conversion.
Provides a Preview Facility for better NSF to EML conversion.
The software is compatible with all the edition of Windows OS (32-bit or 64-bit).
Simple and user-friendly interface.
An advance Date Range Option to export data between the time period.
Supported with all versions of Lotus Notes.
Now both the methods are in your hands, you can choose one of them which you like better. But I want to remind you that manual processing with large mailboxes is a risky game. So use the relevant tool with large mailboxes that are capable and reliable to move all mailboxes simultaneously. The above utility comes with a demo and paid version. You can use the demo version as a test version and check the functionality or working process.
Read- Convert Lotus Notes to MBOX
Read- Export Lotus Notes Contacts to Outlook