Both Gmail and Lotus Notes provide different types of email facilities; Gmail is the cloud base while Notes is a desktop-based email client. IBM Notes comes with the facility to connect to IBM Domino Server. It has the latest and advanced security features, which helps to protect and protect the company and user data within a certain scope.
On other hand, Gmail is a free and paid advertising based email service by Google Inc., which is a cloud-based platform. But sometimes the user needs to save data in local device for offline use. In that case, the user needs to export all the data from Gmail to Lotus Notes.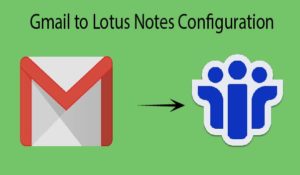 Steps to configure Gmail Account in Lotus Notes-
These steps are very simple, but important so do all the steps carefully. And you will be able to easily import Gmail account in IBM Notes.
 Enable POP protocol from your Gmail account before proceeding.
1- Firstly, Run the Lotus Notes application in the local system.
2- Now click on an Open tab and select contact option.
3- In the contact menu click on "Advanced" option then select the new tab and click on the account option.
4- In the open new account tab >> the three-tab will appear- Basics, Protocol Configuration, and Advanced
First, click on the Basics tab and fill all the required details-
Account Name- Incoming Internet mail
Account Server- pop.gmail.com
Login Name- User's Gmail account id
Password- Users Gmail account password
Protocol- POP
SSL- Make it enable
Note- There is no need any changes in Protocol Configuration tab
After fill all the basics tab details >> Go to Advanced tab.
Open new advanced tab, fill all the required details such as-
Port Number- 995
Accept SSL Site Certification- Yes
Accept Expired SSL Certification- Yes
Send SSL Certificates- No
Verify Account Server Name with Remote Server certification- Disabled
SSL Protocol Version – V3.0 with V2.0 handshake
5- After fill, all the details click on save the settings option and close the tab.
6- Then going Outgoing Internet Mail, there are two tabs- Basics & Advanced
Firstly, select on the Basics tab and fill some details such as-
Account Name- Outgoing Internet Mail
Account Server- smtp.gmail.com
Protocol- SMTP
Now select on Advanced tab and only change one option-
Port Number- 465
7- After filling it click in save and setting option then select close option.
8- Then select Locations and click on Online option.
9- When you click on online option a new window will appear, which has four options- Basics, Servers, Ports, and Mail-
First, Click on Basics tab and fill all the required details-
Location Type- Local Area Network
Location Name- Online
Internet Mail Address- user's Gmail account id
After fill, the Basics tab details click on Server tab
Home/Mail Server- pop.gmail.com
Then click on the Ports tab and check on TCPIP box.
Now select on Mail tab and fill all details
 Mail File Location- Local
Internet Domain for Notes Addresses- gmail.com
Send Outgoing Mail- Directly to the Internet
10- After filling the all tab details select on save all the settings & click to close option and restart the IBM Notes application.
If the user fills in all the details correctly and carefully and follows the blog steps then they can easily import Gmail to Lotus Notes without any errors. After configuration, the user can easily access all Gmail data in Lotus Notes.
Conclusion- You must have known how to configure Gmail account in Lotus Notes. Anyone can easily synchronize Gmail in IBM Notes by reading blogs and through pictures and can open mailbox in Lotus Notes.
Read: Lotus Notes to Office 365 
Read: Lotus Notes to MSG